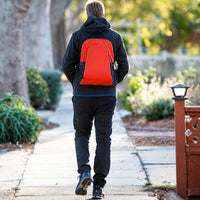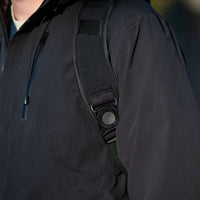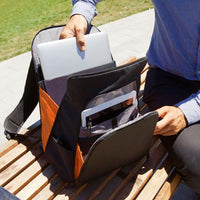 Slim Pack 2.0 Minimalist Commuter Backpack
Pairs well with
(check to include)

11/9/2023 Update:
Just launched- Timeless Orange!
We've got a few in stock and orders placed before Monday 11/13/2023 will ship then.
After that, they'll go into pre-order for the next batch in early 2024.
Got a new M1 Macbook Pro? How about a lighter bag to offset the weight?
The SlimFold™ Slim Pack is a waterproof commuter backpack that's lighter and stronger than traditional backpacks, yet more useful due to its thoughtful, comfortable details.
Fits all generations MacBook Pro: M1 14in, 16in, older 15 in. & 17 in too.
Waterproof against rain and spills
Highly abrasion resistant soft shell material
Weighs only 1 lb. (front pad removed) or 1.5 lb (with front pad)
Fits any laptop with a rectangular footprint of 14.5" x 10.25" x 1.25" (37cm x 26cm x 3cm) or less.
12" (at base) x 17" tall
5 in. thick (at base) tapering to 2 in. thick at the top.
Front pocket is 10.5" (at base) x 13" deep. and fits an iPad 11"
Pre-order items will ship when the product is completed based on priority of when the order was placed.
We've delivered over 1,000 backpacks to dozens countries. 
Free US Shipping and Flat rate global options.
The Slim Pack carries a 5 year warranty against manufacturing defects.
Moreover, we provide lifetime support to try and help you keep using your bag for as long as possible. If we can repair or replace parts from our stock, we'll help you out and usually just charge shipping.