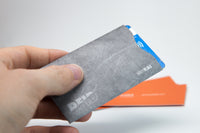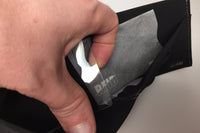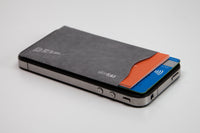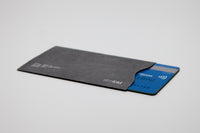 Details
**Did you know these card sleeves can actually be inserted into any MICRO model (Tyvek® or Soft Shell) to convert it to block RFID? Just order a non-RFID model plus this sleeve set. Then insert the sleeves between the plastic reinforcements and the outer layer of the wallet.
These handy card sleeves shield RFID cards that operate at 13.56 MHz and above, the frequency type usually used for personal and financial data on cards:
Credit cards using PayPass, Blink, sQuid, and more
ID cards used in Canada and US states such as WA, MI, NY, and VT
Building access badges (operating at 13.56 MHz and above. 125 KHz not blocked)
Made of durable Tyvek, these sleeves are lined with RFID blocking aluminum but are still so thin as to take up almost no space. Use them in any wallet to add RFID protection or simply to carry business cards or separate some cards from others. A great addition to any SlimFold to step up both security and convenience. Or use on its own for an ultra-minimal solution.
Comes in a pack of 2
Holds 1-2 cards each
Holds up to 10 business cards
$3.95 shipping within US
$6.95 international shipping Flat shipping charge per order (Adding to a wallet order does not increase shipping charge)
RFID Card Sleeve (2 Pk) Reviews